Learning about MACAU
Today I oriented myself to MACAU (Mixed model Association for Count data via data AUgmentation). MACAU is a program that assess the influence of a continuous predictor variable, e.g. age, on methylation while controlling for relatedness. To do so, it models raw read counts from bisulfie sequencing using a binomial mixed model. The software and manuals are available on the Zhou lab's website
To learn about the principles underlying this program, and the problems this program addresses, I read this paper:
"A Flexible, Efficient Binomial Mixed Model for Identifying Differential DNA Methylation in Bisulfite Sequencing Data" by Amanda J. Lea, Jenny Tung, Xiang Zhou. https://doi.org/10.1371/journal.pgen.1005650.
The MACAU user manual is helpful to understand which input files I will need, which include:
1) Methylated read counts - Matrix containing read counts for methylated sites 2) Total read counts - Matrix containing read counts for all sites 3) Relatedness matrix - genetic relationship matrix for all individuals 4) Predictor - a vector of a continuous variable
Here are some helpful snippets from the paper and the manual:
---
MACAU analyzes raw read counts, not %, thus discerning between noise and DML. In practice, I'll need to have 2 count files - 1) total read counts, and 2) methylated read counts. I don't know wheter I have those files ready to go from Steven's processing - that's something to figure out.
---
MACAU includes a relatedness term in the model, thus controlling for genetic inheritance of methylation patterns. In practice, I will need a relatedness matrix file. Katherine generated this for me from SNPs. To start, I will use a relatedness files she generated using SNPs from only the Hood Canal and South Sound oysters, located in the repo's 2bRAD directory.
---
MACAU tests the null hypothesis that the predictor of interest has no effect on DNA methylation levels:H0: β = 0. The predictor could be a variety of things. In our case, the predictor is shell size, wet weight. More than one variable can be inputed as a covariate matrix.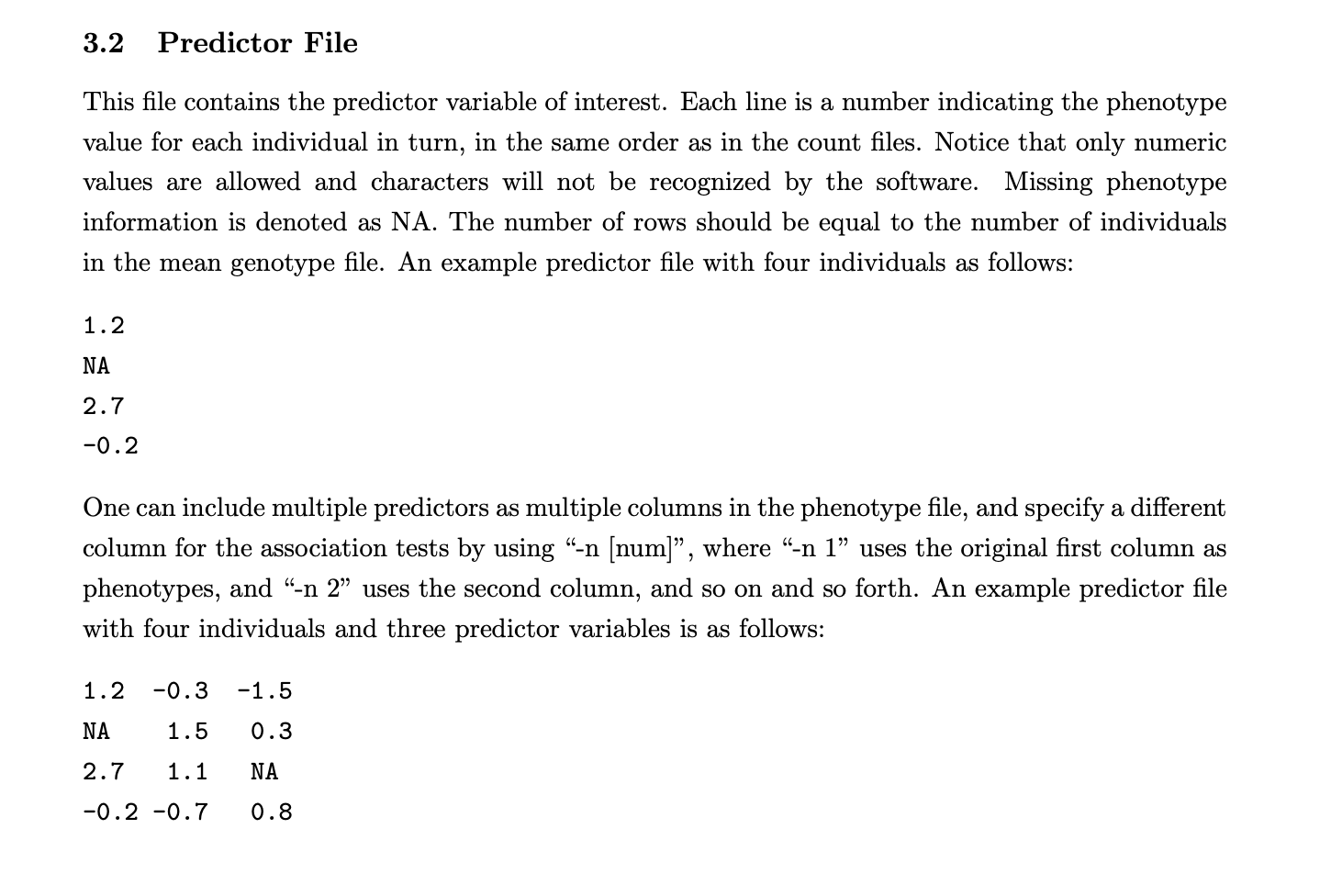 ---
MACAU operates on a Linux computer. Sam installed the binaries on a few computers (see this github issue #722 (note: not the R package). Once I have all the input files I should be able to run MACAU fairly easily, since the command is simple, we'll see!
./macau -g [filename] -t [filename] -p [filename] -k [filename] -bmm -o [prefix]
Written on August 7, 2019