Manchester, 6/19
Screening day and more! Things went very smoothly today. Grace, Olivia and I make a good team.
Arrival inspection:
Banjos very dirt, a few pseudo-clogged. Due to heavy use of Tet algae.
HL-10 Ambient, which spawned, banjo overflowing but luckily lots was caught in an empty trio pour that was sitting adjacent to the catchment bucket
Screened larvae (Olivia, Grace, and me).
Mortality ranged dramatically between groups. Very high mortality in the following groups: - SN-6 Low 180um - lots of ciliates present - SN-10 Low 224um, 180um - lots of ciliates present - NF-10 Low 224um, 180um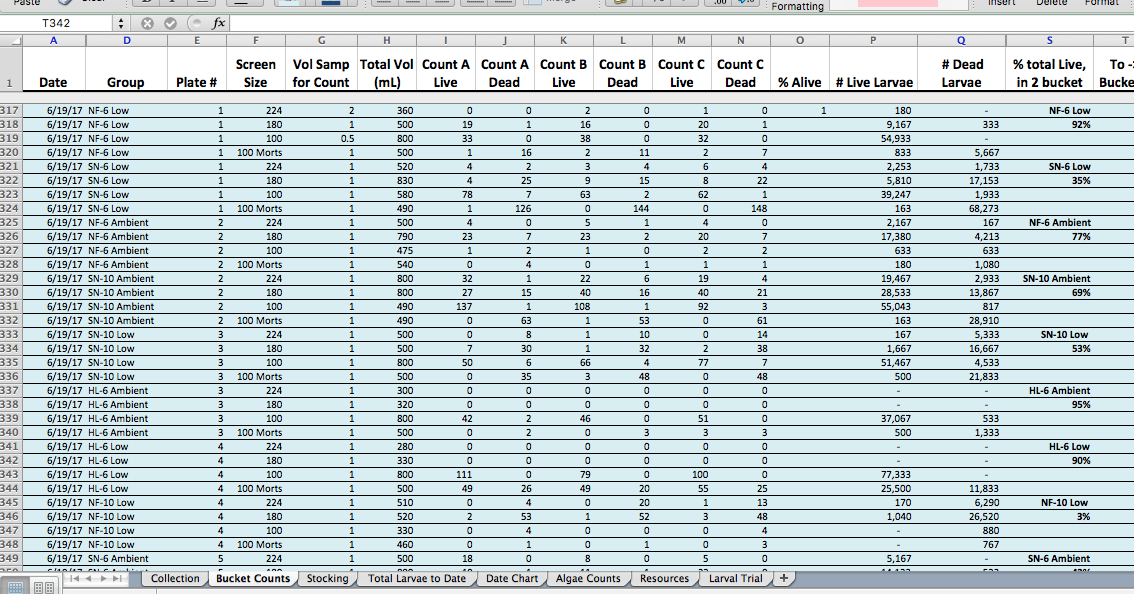 Collected new larvae, counted, stocked, and sampled. Grace did the majority of this process today.
Cleaned gigas (Olivia)
Drained all three tanks, cleaned with vortex- LOTS of stringy stuff in the top tank w/o animals. I now am certain that the mucus is a result of the Reed's paste, and not coming from the animals:

Rinsed gigas, checked for morts - there were none.
Refilled tanks, then turned off flow and allowed header temp to increase.
Grace adjusted flow for 1.2 L/Min on each side.
Increased set point temp to 21degC.
Fed with 490mL Reed's paste
Installed new pump (had been using small PSRF pump).
Cleaned Broodstock (Olivia):
First, recorded broodstock location on manifold
[image here]
Dumped all broodstock & larval catchment buckets, rinsed oysters, cleaned buckets with vortex.
Larval experiment water change:
Katherine recommends having 5 replicates.
I heeded her advice, and thus split my 3 reps into 5 via the following:
Math!:

Assuming 800 larvae in each tripour, total # larvae per treatment = 800*3 = 2,400
Larvae per rep for 5-reps = 2,400/5 = 480
larvae to remove from each tripour = 800-480 = 320. Split these up into 2 new silos = 160 larvae per new silo per triplicate

How this was done:

Set 2 new silos in FSW. Label with designated treatment group.
Working 1 silo at a time, transfer larvae to a tripour, fill to 200mL

mL needed per new silo = 800 larvae/200 mL = 4 larvae/mL, 160 larvae / l/mL = 40 mL
Plunge 20 times, pour 40mL into 2 falcon tubes. Add the contents into the two silos.
Repeat with other 2 triplicates.
Result:

2 new silos will have 160*3 larvae = 480
Original silos will have 800-(2*160) = 480

New setup:

Changed water.

Filled a 5-gal bucket with 18L.
Harvested 450mL Tiso, CGW & counted density:
Mimicking Katherine's experiment, I will sample & image larvae on Thursday 6/22 (day 7), then also on 6/29 (day 14)
Reminder: I'm working with the 4 treatment groups in the South Sound (SN) population.
current summary data:
Downloaded Avtec Data from past 30 days:
Saved in my GitHub Repo.
Written on June 19, 2017